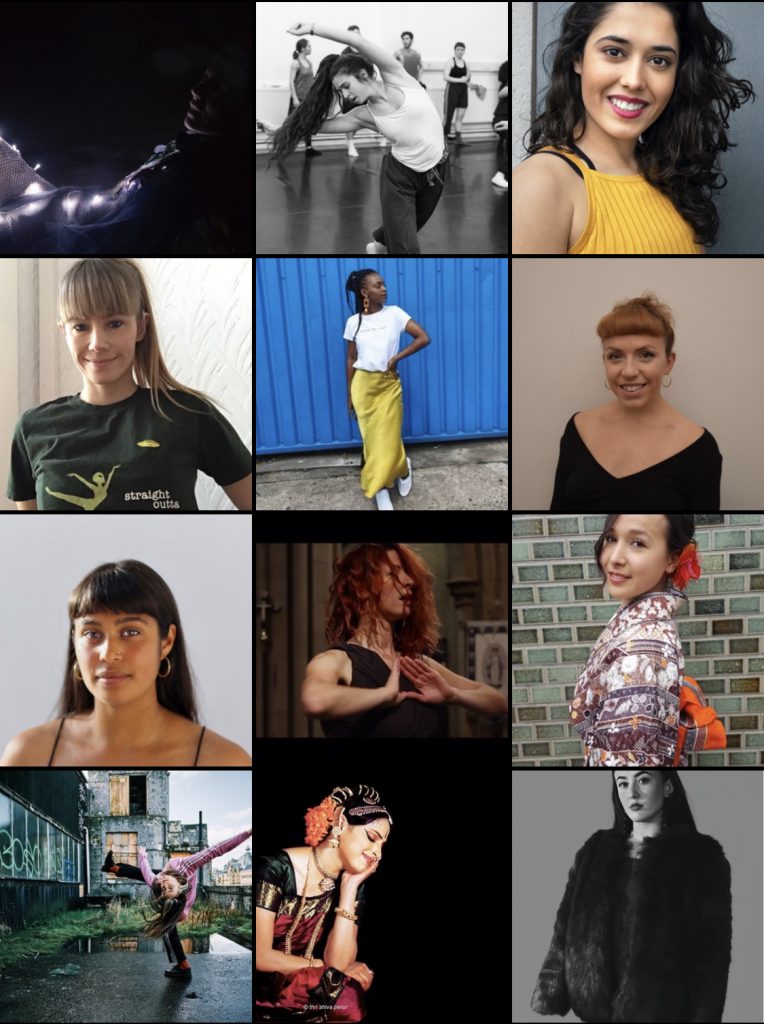 We know how difficult the current global situation is for dancers, how much they are missing the beautiful feeling of moving together with other people in space and crucially how much work and income they have lost.
So we have created a development program for dancers to share their practise with each other, to continue learning and moving together and to find new joy. The world is a turbulent place to be and we'll be moving through the programme with care and understanding for each other.
The Programme:
We'll get to know each other a little better before, agree the way in which we want to work together and some core principles starting our training together before we start training. Then each artist will deliver 4 training sessions for the group over two weeks, meaning the group will share a total of 48 training sessions over 6 month duration of the project.
A rich range of techniques will be taught including Ballet, Kuchipudi, Yoga, Pilates, Contemporary, and Body Conditioning.
Each dance artist is beautifully different to the other, with different skills and experiences.
We're beyond excited to announce those artists and introduce you to them…
The Artists:
Kitty:
Kitty Ray Harper Fedorec is a performer and creator, bringing together movement, live art, queercore music and noise. Her work makes spaces and experiences that reach for a place of shared catharsis through the exploration of ritualistic urges. Kitty's practice comes from a place of unashamed queerness, neuro-divergence and mental illness.
'I am excited to participate in this programme, connecting with dancers across the country and learning in a way that is normally restricted to me outside lockdown. I will be offering improvisation and yoga inspired contemporary; moving with care and awareness, grounding and centering as a starting point for play, with access at the heart of the practice.'
Erin:
I am a freelance performer, choreographer, teacher, and researcher. Between running my own company Matter of Fact, performing and teaching, I am also a published author with research looking into dancer's mental health and injuries. I am a die hard Friends fan, could sleep for England and I am at my happiest when in the sun.
Being a part of the Company of Others professional development programme is a privilege, to learn from such a plethora of other artists, and to be able to share my practice even through this isolating period.

Ellyn:
Having graduated from The Place in 2013, I have taught in many vocational and recreational settings, as well as working with various opera companies, allowing for international performance opportunities. In 2018 I completed my Masters at The Place, researching the importance of teaching dance within the education system, focusing particularly on the positive impacts this can have for boys.
I have been teaching a number of classes over Zoom during lockdown and am very much looking forward to being the recipient of a regular class, getting to know other dance artists and learn new ways of moving/teaching with Company of Others.

Becki:
I am very passionate about dance and making it accessible to absolutely everyone. I am a dancer on the autism spectrum. In 2018 I created and performed my solo 'Hunting for the unicorn' supported by TIN Arts and funded by ACE at SIRF in Stockton and Fira Tarrega in Spain. HFTU is an autism awareness piece portraying the everlasting search for what makes each of us special and unique. I am a leadership coach at inclusion north and an ambassador for the NEIDN. I am also a member of the Talent HUB.
I am very very excited to be a part of this programme with Company of Others. I am looking forward to dancing with new people and learning from them, sharing my learning and experience and developing further as a teacher in dance.

Benny:
Benedicta (Benny) is a dance artist working in the North East. Benedicta is currently a company dancer with balletLORENT and has previously performed with Company of Others in Crackle. Dust.
Benedicta is grateful and excited to be learning/teaching alongside other artists through this new teaching/artists exchange made possible by Company of Others.

Alyssa:
I am a dance artist based in Newcastle, after training on the BA (Hons) programme at Dance City. Since graduating, I have danced for many local companies, as well as developing myself as an independent artist. My passions lie in facilitating and performance, and I am passionate about pushing my creative practice.
I am really excited to be part of this collective and to continue to develop my work. I am going to be delivering sessions that enhance movement quality and ignite creativity, all while fitting into the small spaces that we have at the moment.

Jenna:
Jenna is a freelance dance artist who also enjoys spoken word, life modelling and drawing. Jenna loves dance for its ability to bring people together and for it's communicative power. Fundamentally she believes dance is a powerful tool for personal growth for any individual.
Jenna performed in Company of Others' Crackle. Dust in 2019.
I am so thrilled to be a part of the sharing and training collective through Company of Other's, as moving with other people is what I have missed the most!
Izzy:
Izzy Brittain is a dance and spoken word artist working across teaching, making and performing. Currently specialising in dance for older people and those living with dementia and / or Parkinson's, she also has a background in interdisciplinary performance making.
Izzy looks forward to this opportunity to move, explore and share practice in a consistent community, even as the world around us seems uncertain. Her practice approaches dance as both a natural state of being and a radical act of resistance / care. Her understanding is that the revolution will be embodied, and that living a creative, empowered life is every body's birth-right.

Lila:
Lila J Naruse is a professional contemporary dance artist based in the North East of England. Her key values are to create and perform unique work with honesty, respect and joy. Lila uses the emotional and physical connection of the whole body as inspiration and wishes to address themes concerning humanity and social issues.
http://instagram.com/lila.j.naruse
I'm excited to share a contemporary class that will be fast paced, energetic, grounded and release based. The class will aim to train the whole body including the focus of the mind.
Alicia:
Alicia is a dance artist living and working in Newcastle, as a performer, choreographer, movement director and facilitator. After completing her BA in performance, she gained an MA in creative practise at Laban in 2013. Alicia first worked with Company of Others in 2018, performing in Crackle. Dust.
I'm really excited to be reunited with the Company of Others team and grateful for the opportunity to be a part of an online community of dance artists sharing and developing our practises together.

Payal:
Payal is a Kuchipudi (South Indian classical dance style) dancer and choreographer with a strong foundation laid by several years of rigorous training. She has built her unique vocabulary, that aims to be a reflection of the times we are in. Payal is currently working on her production 'Just enough madness' supported by Arts council, England and on 'The boy who grew a forest' as part of Dance City's commissioned works.
This initiative to bring together artists from different genres of dance will be an opportunity to engage in a dialogue/practice with them and learn about the artists and their work. I am keenly looking forward to sharing a dance form (Kuchipudi) that is still very under-represented in the UK.

Cora-Jay:
Cora-jay Williams is a dance artist based in the North East, performing, teaching and aspiring to create her own work. After graduating Cora-jay has worked and toured with an array of dance theatre companies and teaches in both a community and professional settings.
As part of the collective Cora-jay will be leading contemporary technique sessions focusing and supporting dancers to ensure they are in a good place physically and mentally through basic safe practice.