I'm Jenna Anne, 24, half Malaysian Indian and half White British, rock a crop fringe with long dark brown hair, nose ring, usually wearing colourful clothes and cycling my bike.
I completed my degree level dance training at Northern School of Contemporary Dance in Leeds and then went on to do 8 months further training with JV2. I've weaved between working in night clubs, restaurants, a yoga studio, an awesome bike shop, the odd music video, and modelling with working as a freelance dancer with companies such as, Company of Others, Coalesce Dance Theatre and A Truefitt Collective. I enjoy layering together dance, poetry, painting, modelling and photography as methods of expression and recording my experiences.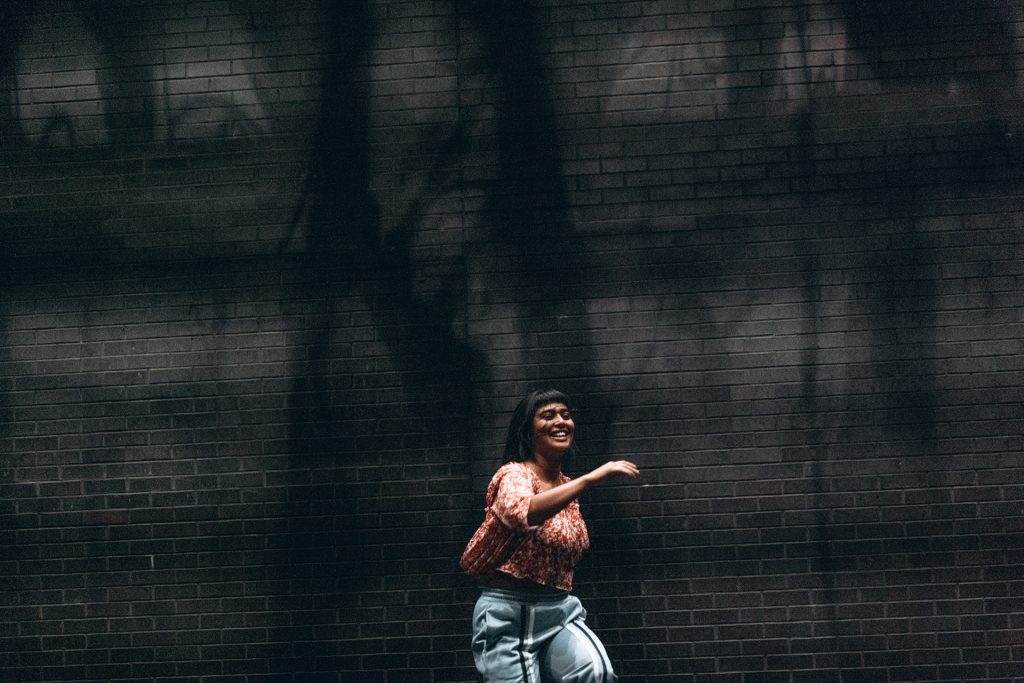 In March 2021, I joined Company of Others as an Artist in a permanent role, which is a gorgeous mixture of performing in our productions, choreographing with Company of Others Ensemble and Walker Youth Dance Project, supporting the company's day to day running and contributing to its strategic growth and development.
My first professional job was Company of Others dance theatre show Crackle. Dust. in 2018. It was a special experience to be a part of and witness to the company's unique method of co-creating work. We shared Women of the North's stories of 'Endings' with the aim of highlighting their resilience and power, through movement, spoken word and live sound. This experience transformed how I wished to move through the dance industry, with the intention of being a part of innovative and meaningful dance work, to SERVE through dance. That is exactly what Company of Others do.
Within the frame work of the company's values; artistry, diversity and integrity, I want to refine my practise to offer dance for expression, dance for healing and dance for change to others, and more specifically, the 'Othered'. There is a consistent, careful awareness regarding everything and everyone, who engages with or comes into contact with Company of Others. The deep consideration that is weaved into all aspects of the company I think is a defining attribute of Artistic Director & CEO, Nadia Iftkhar.
One of the biggest revelations I have had since joining the company as a permanent member of staff is seeing the hard pre-creation process, graft and the extra mile Company of Other's will go to ensure all who come into contact with the company from musicians, artists, technicians, venues, audiences etc will have meaningful and positive experiences.
Company of Other's deeply consider the who, the why, the how, when and into what. The individuals invited into the rehearsal space and/or creation process are carefully selected not just for their dance ability, but their personal knowledge and experiences. Essentially who they are, is as highly valued as what the skills they can bring. Each person is a piece of the puzzle, no one needs to look the same, move the same, think the same, but will collectively come together to share their art, learning and joy whilst fulfilling what becomes our collective artistic vision.
As a performer, I have felt the benefits of this consideration and seen peers sparkle and surpass their own perceived limitations. There is a raw and real emotional territory to Company of Other's work. This is WHY Company of Others for me, because we believe dance can be a vehicle for change within an individual's inner world and their community. Our community.